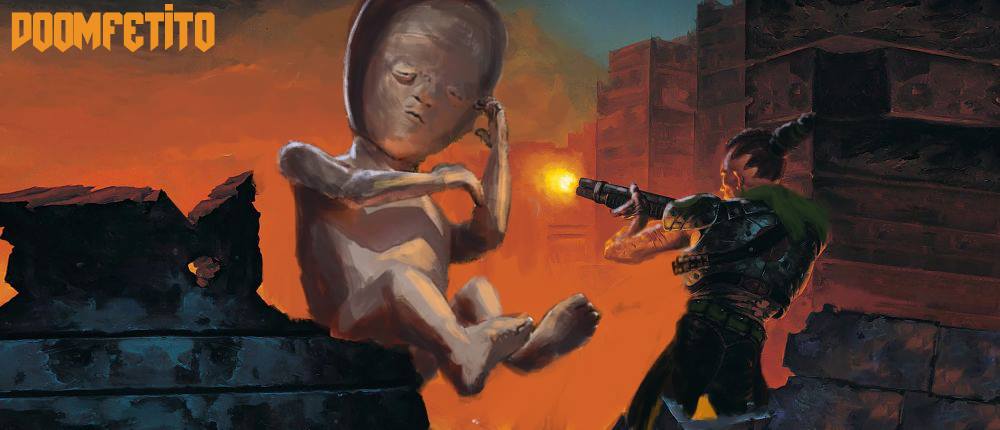 Doom Fetito
A downloadable mod for Windows, macOS, and Linux
Si llegaron acá por los comentarios del señor Gonzalo Aziz, sepan que también hice este otro juego por el derecho al aborto legal, seguro y gratuito, pero tuvo menos repercusión =) Se llama ¿Qué pensás hacer? y lo pueden encontrar por acá: https://rumpel.itch.io/que-pensas-hacer

Context for international players

At the moment abortion is a grey legal area in Argentina. Abortions can only be performed if the pregnancy can harm the health of the parent or in the case of rape. If you are pregnant in Argentina and wish to have an abortion, you risk facing jail time. If the procedure isn't done properly you risk getting injured or even dying. Tons of women die every year in Argentina because abortion isn't legal in all cases.

Since this sucks, feminism has been pushing for legal abortion in all cases since forever and has been ignored until recently. Shit got weird. No, seriously. I can't stress this enough. SHIT GOT WEIRD.
In February a local talk show hosted a debate about abortion with feminist speakers. This caught everyone by surprise, but also got everyone talking about abortion. Later that month, Argentinian president Mauricio (fascist and misogynist bastard) Macri (gato) agreed that it was necessary to have a debate about abortion. We still don't have legal abortion, mind you, but whatever.
Fast forward to March 25th and we get a protest orchestrated by the most conservative sectors of Argentinian society to stop abortion from being legal. The people who marched were:
A woman whose tactic to stop abortion is to give away little plastic babies. This woman is the daughter of Videla's layer. Videla was a dictator in Argentina's most gruesome dictatorship.
Actual neo nazis.
Catholic people (worshipers, priests, nuns, you name it)
They all marched alongside this thing.
https://twitter.com/IglesiasDiego/status/978013358594121728
See? I told you it was weird.

If you don't feel like downloading this mod, you can watch the sidebar video.

---

Si te da paja instalar el mod, podés darle play al video que está al costado de esta página, pero no vas a descubrir los secretos, ni tener la satisfacción de aniquilar al fetito de cartón con tus propias manos =(
Los monstruos son estos bichitos recoloreados. La foto del bebito es cortesía de Internet.

Banner cortesía de Nahuel G. Dimarco Bustos.

Download
Click download now to get access to the following files: